Traceability Platform
Forest Landscape Restoration Fund (FLR349) Traceability Platform
Working in collaboration with innovative agrotech startup, Ricult, the FLR349 has developed a new and improved traceability platform which will allow farmers to input more detailed data, increasing transparency and consumer information.
Who are Ricult?
Ricult comes from the middle syllables of the word 'Agriculture'. In keeping with this phonetic tradition, Ricult aims to become integral to the agriculture of tomorrow. Ricult provides a traceability and monitoring digital platform to address the information gaps in the supply chain. Both tree plantations and agricultural products from the restored landscape will be made traceable through the platform. For sustainability of the FLR349 project, these agricultural products will be sold to the retail market, providing sustainable income to the smallholders. Moreover, Ricult also brings advanced remote sensing technology to monitor the impact of the project by tracking forest and crop growth. Additionally, Ricult's technology will assist smallholder farmers with data registration and micro-climate weather forecasting to improve farming productivity and mitigate climate risk.
Ricult Traceability Platform
The new traceability platform is a mobile and web-based application that deploys various state of the art technologies including micro-climate weather forecasting and weather analytics, satellite imaging, remote sensing, and machine learning to help farmers maximise their agricultural potential while also making it easy for them to track their plot's growth. The aim is to encourage more responsible sourcing.

These technologies, in particularly Ricult's hyper local weather analytics, will help farmers figure out the best time to perform different agricultural processes, such as sowing. Moreover the technologies will also allow for rain forecasts and remote crop monitoring through satellite imagery
Smart farming appplication
the smart farming mobile application is designed to help farmers track their agriculture plots, improve their yield, and increase profitability
The technologies deployed by the smart farming application, in particularly Ricult's hyper-local weather analytics, will help farmers figure out the best time to perform different agricultural processes, such as sowing. Moreover, the technologies will also allow for rain forecasts and remote crop monitoring through satellite imagery
Before planting a new crop, the farmer simply has to find the crops they are planting from the list and enter basic information like date planted and area size.
Once the data is inputted, on the application, the farmers can easily view an overview of their plots, and detail of the individual crops planted, while also monitor the plots and crop growth via satellite imaging.
We know that some farmers may find navigating the application difficult. This is why WWF Thailand and Ricult are hosting on-site training workshops with the farmers to help them learn to integrate the technologies into their operations. A number, as well as a field officer who makes regular trips to the project sites, will also be available to help the farmers if any questions or concerns arise after the training date.
Creating a system where on the production end farmers are able to easily track their agricultural projects, means consumers are easily able to trace the produce they purchase back to its source, increasing transparency and consumer knowledge.
Consumer information is important to any sustainability work we do because it is vital if any change in the food system is to occur. With more information available, consumers are able to make more informed and better consumption choices.
With the traceability platform, consumers are able to trace their produce back to its source and learn where their food comes from, Consumers can become more confident that the food they are choosing is truly the sustainable option. This will allow them to trust producers more, improving the relationship between the two
Powered by Omise, the platform will also double as a donation platform to increase funding for the project and allow everyday consumers to contribute to the fight towards a more sustainable world.
Benefits to reforestation
The traceability platform will assist the project with monitoring and evaluation. Using data from the traceability platform in conjunction with other data collected like growth rate and survival rate allows for a clear picture of project progress. The information provided by the traceability platform will allow the project team to accurately perform monitoring and evaluation, which is vital to project success. Used properly and regularly, monitoring and evaluation provides continuous feedback on how project implementation is going while helping identify and minimize risks and constraints that may occur. The traceability platform will help the project accurately analyze trends and project impacts, showing us which parts of the project are succeeding and which parts need improvement, increasing chances of project success and ensuring funds are being used appropriately.
Old traceabily platform
FLR349 Traceability platform เป็นฐานข้อมูลการเชื่อมโยงการผลิตและการบริโภค ผ่านระบบการบันทึกข้อมูลลงในระบบ Cloud ผ่านการเพิ่มเติมข้อมูลการเปลี่ยนแปลง กิจกกรรม การวางแผนการผลิต การบันทึกฟาร์ม ข้อมูลการดูแลรักษาต้นไม้และผลผลิตในพื้นที่ปลูกป่าและพื้นที่ทำการเกษตรแบบเกษตรกรรมยั่งยืนในพื้นที่ พร้อมกับให้ผู้บริโภคได้ติดตามตรวจสอบย้อนกลับผลผลิตและการสนับสนุนการฟื้นฟูภูมิทัศน์ป่า โดยใช้ ระบบ QR code ที่ติดไว้กับต้นไม้ในแปลงทุกต้น และสร้างเป็นฐานข้อมูลไปกับผลผลิตที่เกิดขึ้นจากพื้นที่
แผ่น QR Code สำหรับการอัพเดตข้อมูลของต้นไม้ในพื้นที่
ต้นกล้าโกโก้ ที่ปลูก และติด QR Code ในพื้นที่แปลงปลูกนางฑิฆัมพร กองสอน พื้นที่ บ้านหนองห้า ตำบลบัวใหญ่ อำเภอนาน้อย จังหวัดน่าน
ระบบประกอบไปด้วย
Farmer - ข้อมูลของเกษตรกร ชื่อ-สกุล เพศ ที่อยู่ พิกัดและแผนที่แปลงปลูก ขนาดพื้นที่ของพื้นที่ปลูกป่าและพื้นที่ทำเกษตรกรรม

Retails – ข้อมูลผู้รับซื้อผลผลิต เพื่อการตรวจสอบและจัดการผลผลิตตลอดห่วงโซ่อุปทาน
Agriculture: ข้อมูลชนิดของต้นไม้ พืชผลทางการเกษตร
Farming – ข้อมูลแปลงผลผลิต
Traceability – ข้อมูลรวมทั้งหมด ของเกษตรกร จำนวนชนิดต้นไม้ พืชผลทางการเกษตร
ตัวอย่าง แปลงปลูกโกโก้ ของนางฑิฆัมพร กองสอน ใน www.flr349.org
แสดงชนิดต้นไม้ ลำดับที่
Traceability ID ของเกษตรกร
พิกัด GPS ดาวเทียม ของต้นไม้ที่ปลูก
จำนวนต้นที่ปลูก และรายชื่อเจ้าของแปลงพร้อมภาพถ่าย
แผนที่แสดง พื้นที่ปลูกผ่านระบบ GPS
Update การเจริญเติบโตและการดำเนินกิจกรรมของต้นไม้ที่ปลูกในพื้นที่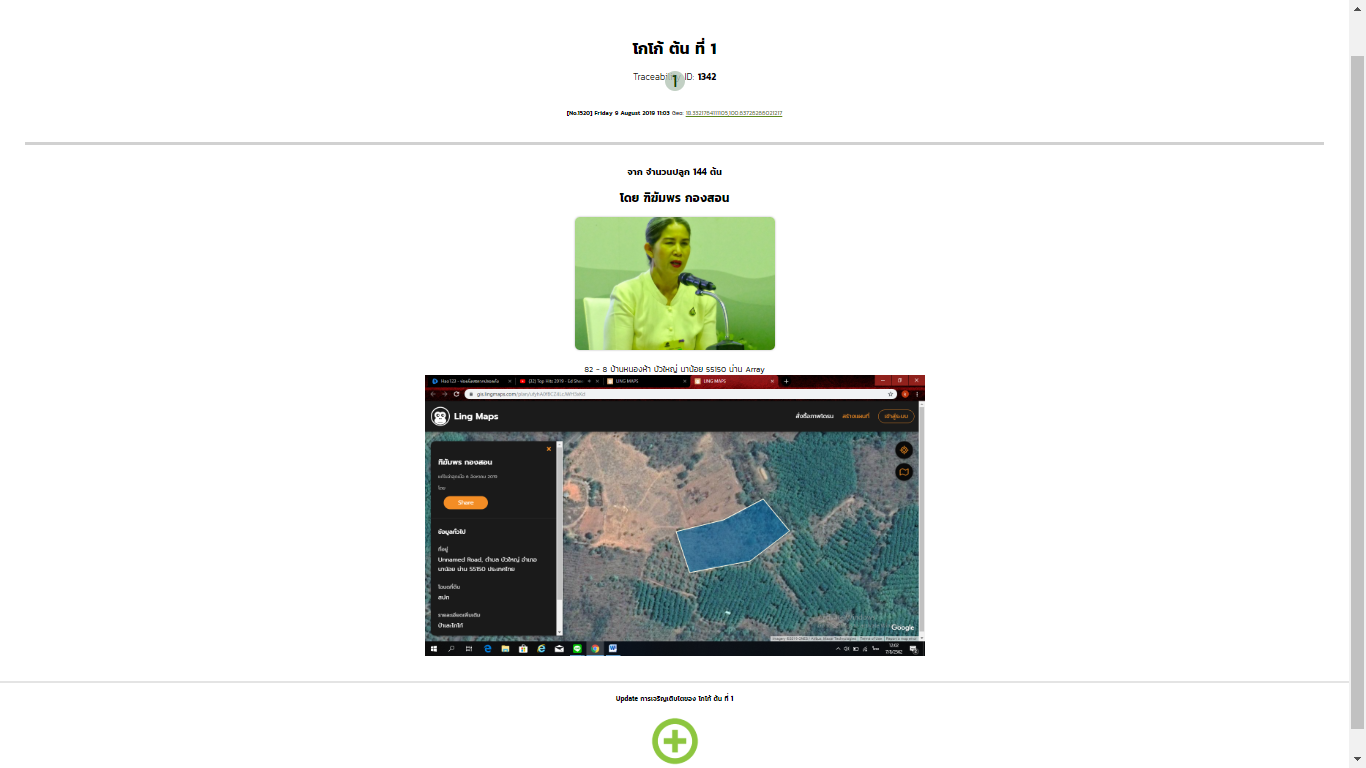 The FLR349 Traceability Platform is a database that connects production and consumption through the collection of data on a cloud based system. The platform tracks changes, activities, production planning, and includes information on the farms and conservation methods for agroforestry areas. Additionally, the FLR 349 Traceability Platform also allow consumers to trace the origins of their produce and support smallholders through a QR code system. The QR codes are fixed to each individual planted tree, creating a specific database for every product in the area.
QR code card used to update information
Cacao plant in Ban Nong Ha, Bua Yai sub-district, Na Noi district, Nan province with QR code card attached
Traceability system sections
Farmers: information on farmers including, name, sex, address, and information on the land including size, coordinates and a map
Retails: information on buyers for tracking and management of produce through the supply chain.
Agriculture: data on the different types of plant and agricultural crops found in the area
Farming: information on the farms
Traceability: combined collated data on the different famers and agricultural crops.

Example of a cacao farm plot on www.flr349.com
Types of plants and the order planted
Farmer's individual Traceability IDs
GPS Satellite coordinates for each planted tree
Number of plants in the area with details and photos of the smallholders
Updates on the growth and activity of trees planted in the area