Ivory and the Unheard Trumpets
Today, the worlds elephants are facing a poaching crisis.
Around 30,000 African elephants are killed every year for their tusks a rate outpacing their population growth.
These majestic animals are killed so their ivory can be made into everything from decorative items to trinkets and later smuggled to supply an insatiable demand for ivory, primarily in Asia, including Thailand. While elephants are revered in Thailand as an integral part of Thai beliefs and culture, the country had one of the worlds second largest unregulated ivory markets.
Some ivory for sale in Thailands markets can still
be traced directly back to herds of African elephants
that were slaughtered and subsequently smuggled into the country by organized crime syndicates.
Elephants are vital to the natural balance of nature and remain iconic species that are treasured worldwide. The damage caused by the ongoing ivory trade can never be undone but it can be stopped, which is why
WWF and TRAFFIC launched a global campaign in 2013 to put an end to the illegal wildlife trade
.
© Anup Shah / WWF
The Thai government's actions are already shaping up to change Thailand's ivory trade and Thai public opinion on ivory for good. However, WWF remains concerned about how legal ivory and retail sellers will be tracked under the new system, and what type of sales certificates will be produced for retail customers. Important questions remain about how the Thai government will be able to enforce its new ivory laws, how future stocks and retail markets will be inspected, and what penalties will be given to non-registered ivory retailers and traffickers.

WWF stands ready to support the Thai government's effort to prove the effectiveness of its implementation and law enforcement in curbing illegal ivory. However, if the latest control mechanism fails to prevent laundering of illegal ivory, moratorium of domestic ivory market will be advocated.

WWF will keep fighting to wipe out illegal ivory trade and the demand for ivory for the future of wild elephants.
2016 may prove to be the most important year in history for the global effort to stop wildlife crime and end Thailand's ivory trade. This year, WWF will be working day and night to ensure that Thailand's ivory trade is heavily regulated or ended, and we are launching an unprecedented campaign to convince the Thai public not to buy ivory and make the connection between ivory and dead elephants.

This campaign will build upon a three year history of successful campaigning on the issue, including a momentous 2015, which proved to be a game changer. The year included new laws and regulations, and a huge public campaign against ivory involving over 1.3 million Thais. As Thailand had one of the world's largest unregulated ivory markets, the changing nature of the trade could provide a lifeline to African elephants.
Tony Jaa, Thai National Football Team Coach and Players Call on Thais to go "Ivory Free"
The "Ivory Free Thailand" campaign kicked off on 13th June 2016, with renowned international martial arts actor Tony Jaa and National football team coach Kiatisuk "Zico" Senamuang joining WildAid and WWF-Thailand to urge Thais to go "ivory free" and help put an end to the relentless slaughter of African elephants for their tusks.
The "Ivory Free Thailand" campaign is calling on consumers to never buy, own or accept ivory as gifts.
"Some people believe that ivory products can bring you power and good luck, protecting you from evil. But what they don't know is that the majority of ivory in the Thai market today comes from elephants that are brutally slaughtered," said Tony Jaa, who has appeared on-screen alongside Hollywood stars and grew up in Thailand's northeastern province of Surin, in close company of elephants. That childhood experience evolved into a lifelong passion for protecting elephants.
"So how can ivory bring power and luck when the elephant itself was met with harm and left powerless? Remember, when you buy ivory, you could be paying to kill elephants. Please go ivory free," added Jaa.
Along with Jaa and Zico, the campaign announced two other ambassadors: Jay Chanathip Songkrasin and Kong Kroekrit Thawikan from the national football team "The War Elephants," who also star in the first campaign ads calling on Thais to join their team by not buying ivory.
"It is devastating to learn that over 30,000 African elephants are poached each year just to satisfy consumer desire for their ivory. Status, success or good fortune cannot come from the ivory of poached elephants. It is only hard work, dedication and playing by the rules that can bring one closer to success. We need to stop relying on items that are pushing these iconic species closer to extinction," said Kiatisuk "Zico" Senamuang, head coach of Thailand's national football team.

"We must tackle this issue efficiently for the progress of Thailand and also for our work to be recognized by the international community. We must collaborate, co-operate, put into practice the introduced regulations and keep doing our best to protect elephants with strict enforcement actions." - General Prayut Chan-o-cha, Prime Minister of Thailand.
By 2018
© WWF / James Morgan
Illegal ivory has been completely phased out from Thailand.
100% of the Thai population understand that elephants are brutally killed for ivory.
Demand for ivory products is reduced by at least 50% among Thai people.
Chor Chang Campaign: Transforming Attitudes to Ivory
A remarkable anti-ivory campaign that has garnered awards, government backing and the support of over 1.3 million Thais.
Seeking to raise awareness around ivory by focusing attention on the link between ivory and elephant poaching, WWF-Thailand's Chor Chang Can Save Elephants campaign encouraged people to symbolically remove the letter 'Chor Chang' – a common letter in the Thai alphabet similar to 'e for elephant' – from their names to highlight the threat that the illegal ivory trade posed to Africa's elephants. And it rapidly went viral with celebrities, artists, journalists, diplomats, government officials and people from across the country participating. The Chor Chang campaign helped to highlight the plight of Africa's elephants as the government was taking critical steps to transform the country's domestic ivory market, including regulating it for the very first time.
Awards from "Chor Chang Can Save Elephants" campaign:
"Best Social Online CSR" Award, Zocial Inc., Awards 2015

Gold Award for

"Best use of social media platform: social media and viral marketing" received at Adman Awards Symposium 2015.

Silver Award for "Best corporate CSR/PR" received at Adman Awards Symposium 2015.

"

Best non-profit campaign" award received at the Asia-Pacific Communications summit 2015.

"Effective Lotus" Award received at ADFEST 2016.
Thailand's first ivory destruction
Thailand's first ivory destruction sends a crushing message of zero tolerance to wildlife criminals.
At a solemn ceremony in Bangkok, the Thai Government today destroyed over two tonnes of illegal elephant ivory, highlighting its determination to crack down on wildlife criminals and the illegal ivory trade.
Following global best practice, the ivory stockpile from the Departments of Customs and National Parks, Wildlife and Plant Conservation was independently audited before it was destroyed, with WWF-Thailand and Freeland acting as auditors. Each piece was measured, weighed and matched against official records.
The Journey of 999 Elephants
Central Pattana Public Company Limited, joined hands with Art Bridge Chiang Rai, a group of artists from northern Thailand, led by the country's leading visual artist, Chalermchai Kositpipat, to create 999 papier-mâché elephants painted by 999 individual artists to raise awareness on issues relating to elephant conservation in Thailand. The 999 elephants exhibit was displayed at Central Bangkok.
"Now more than ever, the public is aware of the fact that 30,000 elephants in Africa are slaughtered each year for ivory and they have called for the slaughter to end. Even Thailand's largest retail developer and the art community have joined hands for elephants with The Journey of 999 elephant's project, using the power of art to communicate the importance of elephants and elephant conservation to the public," said Janpai Ongsiriwittaya, Wildlife Trade Campaign Manager, WWF-Thailand.
WWF's Actions
We campaign to propel the issue of illegal wildlife trafficking to the top of the national political agenda.

As a critical, trusted resource for the Thai government on elephant conservation and the poaching crisis, WWF is uniquely positioned to recommend policy solutions to help stop the killing. We advocate for legal reform. We catalyze high-level government action to increase law enforcement against those dealing in the illegal ivory trade. Only through strict laws and efficient enforcement can Thailand eliminate its illegal ivory market.

WWF works to inspire the Thai public to call for an end of the ivory trade through campaigning and awareness raising of elephant poaching and illegal wildlife trade.
Since Thailand is one of the world's most significant ivory purchasing countries, we communicate about the negative impacts of buying ivory products, and empower consumers to say no to illegal wildlife products.

When people no longer purchase ivory, demand for the product will plummet, and poachers will lose their incentive to kill elephants for their ivory.

Campaign Highlights 2015
On 12th January, 2015 WWF-Thailand launched an awareness raising campaign called "Chor Chang Can Save Elephants", calling on elephant lovers to unite against the ivory trade. Within just one week of the launch, over one million Thai citizens joined the campaign and it was mentioned on social media over 54 million times. #WWFThailand was listed among the top20 trending hashtags in the country. Following the campaign and pressures from CITES, the Thai government propelled the issue of illegal ivory trading to the top of the national agenda.

On 21st January, 2015, Thailand passed the Elephant Ivory Act, the first ever piece of legislation to control domestic ivory market. The new Act had a 90 day period for traders and possessors to register all their ivory and after that time having non registered ivory would be illegal and punishable under this act. The act allowed Thai authorities to understand the size of the ivory market, screen for illegal items and control the domestic trade. Over 44,000 people registered their ivory possessions before the April 21, 2015 deadline amounting to over 220 tonnes of ivory, including 210 ivory shops.
On 19th February 2015 a
large model elephant named "Boon-Chuay"
, after the Chor Chang Can Save Elephants campaign (Chor Chang Chuay Chang) was
presented to General Dapong Ratanasuwan, Minister of Natural Resources and Environment by WWF-Thailand.
The model elephant symbolizes the love of elephants among Thai people and their support for efforts to protect and conserve them.
On 14
th
March, 2015 the
Thai Government prohibited the possession, trade and sale of ivory from African elephants
by enacting an amendment to the country's existing Wild Animal Reservation and Protection Act (WARPA), making African elephants a protected species in Thailand.
From January through August 2015, the Department of
Customs made seven seizures of illegal ivory
and the R
oyal Thai Police made four arrests of individuals trafficking in over 6 tonnes of illegal ivory
. The investigations on each case are currently ongoing.
On 26
th
August, 2015, led by Prime Minister General Prayuth Chan-o-cha,
Thailand had its first ever ivory destruction
. The Thai Government destroyed over two tonnes of illegal elephant ivory, highlighting its determination to crack down on wildlife criminals and the illegal ivory trade.
© WWF-Thailand
Leonardo DiCaprio Supports ช Chor Chang
Over 1.3 million Thais participated in the chor chang campaign and the voice reached a global level when Leonardo DiCaprio tweeted the campaign to his 13 million followers.
The Witnesses of the Killing Field
What can you do to save elephants?
Don't buy ivory:
When people no longer purchase ivory, demand for the product will plummet, and poachers will lose their incentive to kill elephants for their ivory.

Spread the Word:
Reach out to your friends and family and explain to them why they should never buy ivory. Remember: behind a piece of ivory could be a dead elephant.

Report Crime:
If you witness any wildlife crime that you would like to report, urgently, call the Department of National Parks, Wildlife and Plant Conservation's hotline 1362.

Support us:
Become our Facebook fan and received daily updates on our conservation efforts at facebook.com/wwfthailand

Follow us on Instagram @wwf_thai
Campaign Highlights 2014-2013
On 25th June, 2014, an open letter was delivered by WWF-Thailand and partner NGOs to the National Council for Peace and order (NCPO). The letter called for NCPO's urgent attention and action on critical issues relating to Thailand's role as source, transit and consumer country for illegally traded wildlife products.


On 02nd July, 2014 The report, Polishing off the ivory: Surveys of Thailand's ivory market was released by Naomi Doak, wildlife trade monitoring network TRAFFIC. The report found an increase both in the number of locations selling ivory as well as the quantity of ivory available since Thailand pledged to eradicate its domestic ivory trade in 2013.

On 5th September, 2014, WWF-Thailand was appointed as a member of the CITES Thailand Subcommittee, a working group of 17 government organizations dedicated to following through the National Ivory Action Plan and end the illegal ivory trade.
2013
2013 was a monumental year for efforts to protect elephants when WWF and TRAFFIC's global illegal wildlife Trade campaign secured the Head of State's commitment to ban the ivory trade in Thailand.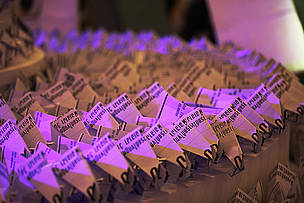 On 21
st
February, 2013, WWF-Thailand and TRAFFIC held
Elephant origami event to draw public support
for ban on ivory trade in Thailand.
On 27
th
February, 2013,
WWF handed over 500,000 signature petition to ban the Thai ivory trade
to the former Thai Prime Minister Yingluck Shinawatra in person. The petition later built up to 1,600,000 supports from around the world.
On 13
th
March, 2013, following global attention and voices from supporters against the ban,
former Thai Prime Minister Yingluck Shinawatra committed to amend legislation to end ivory trade in the country
– the first time the Thai government had said so publicly. The announcement was made during the Prime Minister's opening remarks at the 16
th
Conference of Parties to the Convention on International Trade in Endangered Species of Wild Fauna and Flora (CITES COP 16).
On 9th March 2013, a
"Merit Making Ceremony for African Elephants"
was held by Buddhist Leaders at Wat That Thong, Bangkok to respect the lives of the many thousands of elephants lost to the ivory trade.
On 29
th
November 2013 WWF-Thailand joined hands with country's renowned artist "Sakwut Wisesmaneen" and Stone and Style public co.ltd in an inspiring project called
"A table that saves lives"
which demonstrates how through arts and creativity, one can raise awareness for the importance of environmental conservation and illegal ivory trade.
© WWF-Thailand
© WWF-Thailand
© WWF-Thailand
© WWF-Thailand
Boost for world's elephants from Chor Chang campaign
BANGKOK, January 27, 2015 – Global efforts to tackle the surge in elephant poaching have been given a much-needed boost in Thailand in recent weeks, thanks to an innovative public awareness campaign run by WWF-Thailand and the addition of the African elephant to Thailand's list of protected species.
© WWF Korolczuk
© WWF Korolczuk
© WWF Korolczuk
© WWF Korolczuk
© WWF Korolczuk
© WWF Korolczuk
© WWF Korolczuk
© WWF Korolczuk
© WWF Korolczuk
© WWF Korolczuk
© WWF Korolczuk
© WWF Korolczuk
© WWF Korolczuk
© WWF Korolczuk
© WWF Korolczuk
© WWF Korolczuk
© The Sangha Supreme Council, Thailand.
The Sangha Supreme Council's resolution forbids use of all wildlife products
The Sangha Supreme Council announced a resolution for all Buddhist monks over the country to forbid using of rare and or endangered species/wildlife for spiritual objects such as amulets, Buddhist ceremonial fans etc.

On 25th August, 2014 Mr. Nopparat Benjawatthananan, Director to National Office of Buddism stated that "The meeting concluded that The Sangha Supreme Council agrees with Conservation of rare/and or endangered species just as The National Council for Peace and Order (NCPO) does. The population of wildlife is declining and some species are under threat of extinction as a result from doings of us humans and beliefs/value we have for accessories and medicines made from wildlife parts, along with Buddhism spiritual objects used by monks such as Buddhist ceremonial fans.
© WWF THAILAND
© WWF THAILAND
© WWF THAILAND
© WWF THAILAND